Seal a meal vs foodsaver bags
FoodSaver vs Seal-a-Meal - A Comparison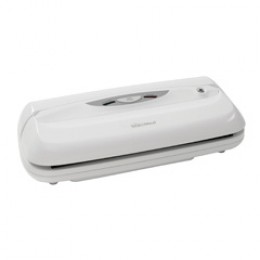 Since the 1980s when we took our young family on many camping and boating trips, I have used either a Seal-A-Meal or a FoodSaver to freeze and store our meals in a convenient manner.
Having owned two of each of these products, I can say without reservation that I much prefer the FoodSaver. It's more money but in my opinion well worth it. Both the Seal-A-Meals died on me in short order. They proved to be more difficult to use and did not vacuum as efficiently as the FoodSaver. It was frustrating to try to get the vacuum tube at just the right position into the bag. With the FoodSaver you simply put the end of the bag into the machine, close the lid and push down the lock. Easy. Apparently Seal-A-Meal eventually decided it was easier to seal this way too. Their product now features the same principal and has done away with the cumbersome tube. But since they fell out of my favor long ago, I am still partial to my FoodSaver. I use it a lot and can't forget how quickly my Seal-A-Meals died on me and the level of frustration I felt in using them. My only problem with my first FoodSaver was that it didn't stay intact when I dropped it on my ceramic tile floor.
The FoodSaver has the added benefit of an optional attachment that will vacuum seal canning jars using regular or wide mouth lids & rings. Very cool. I use these jars to store leftovers in with my FoodSaver and the food stays much fresher longer. This feature alone is worth the extra dollars. The food is more attractive in the clear glass jars sitting in my refrigerator. My picky husband is more apt to eat leftovers stored in jars that are vacuumed sealed than food stored in opaque plastic containers. It not only looks fresher - it tastes fresher. And with all the nasty chemical stuff we're hearing about that plastic contains, vacuum sealing in glass may be better for your health.

So here is the run down on the Seal-A-Meal vs the FoodSaver. Note that both products' manufacturers are subsidiaries of the same company - Jarden Corp.
Seal-A-Meal by Rival
Model # VS107
Cost = approximately $50
Features:
Model # VS230
Cost = approximately $80
Features:
Integrated Bag Roll Holder & Cutter
Progress Lights to Monitor the Vacuum Process
Dishwasher Safe Drip Tray w/ Microban® Antimicrobial Protection
Convenient Top Panel Accessory Port
They also have a cordless model that runs about $70 and will do approximately 25 bags before recharging is needed.
Click on this link to check out the Seal-a-Meal website.
FoodSaver by Sunbeam
There are 15 different models. I have listed two - a basic and a deluxe model.
Model # V2460
Cost = approximately $129
Features:
2 sealing levels + double wide sealing strip for high liquid content
Crush Free control to help protect delicate food items
Built in bag storage and cutter
Model = Professional III Plus
Cost = approximately $279
Features:
Digital Seal Level Display
Automatic Hands-Free operation
Built-in roll storage & cutter
5-level seal control Crush free instant seal
For all you hunters out there, they also have a heavy duty turbo model for storing your game.
Click on this link to check out the FoodSaver website.
The model I own is comparable to the V2460 and it does everything I need. However after doing this comparison I find myself desiring one of the deluxe models to see how all those fancy features work. Hmmm, the holidays are just around the corner. Hint, hint.
Ebay is a great place to find extra pre-cut bags and bag material in rolls at substantial savings. Note the difference in the thickness. I got some of the thinner material (3.5 mil) and found they work just as well as the thicker.

seal a meal vs foodsaver bags
My tip for using Foodsaver/ Seal-a-Meal bags
Ok not really cooking/recipie, but cooking related. For those that buy in bulk and use these vacuum bags, I found the way to get more uses out of them...
This may sound strange at first... but after a few years of keeping track I find that it works better and saves more money.
When sealing your meat/foods, bag the food but DO NOT cut just the amount of bag that you need. Instead let the roll out about 10-12 inches more. Then cut and seal it. It may give you less bags per package of rolls on the "first use". But it will give you many more re-uses per bag.
What happens is that you tend to buy bulk meats (or hunted cuts) in about the same sizes. When you cut a "just enough" bag, you will have to take away at least 3-4 inches on the next seal. And then after that, your bag will get so small, it will only be used for little things on the next run. So for example, I pack some steaks into a 10 inch bag and seal it. When I use those steaks, I have a 7 inch bag left after cutting it open. With the headway needed to get a good seal, that means you only have about 4 inches of "fill space" left in that bag. So it is downgraded for "little things".
Now if you have that same steak packed in a 20 inch bag. After you seal it and use the steak, then you are left with a 17 inch bag with 14 inches of fill space. Then you reuse that and cut it, you have a 14 inch bag now with 11 inches of fill space. Then you reuse that and have an 11 inch bag with 7 inches of space.
Don't know if this is making sense or not. But I get much more use out of the rolls by doing this and have less "small useless bags" laying about. Saves me money not having to buy bag rolls as much.
Give it a try once and see if it works for you also!
Here is a picture of what I am talking аbout: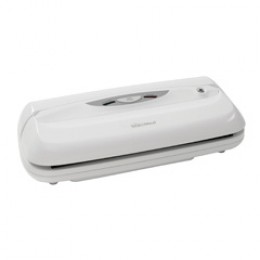 ? FoodSaver FM2100 vs Seal-a-Meal: Reviews, Prices, Specs and Alternatives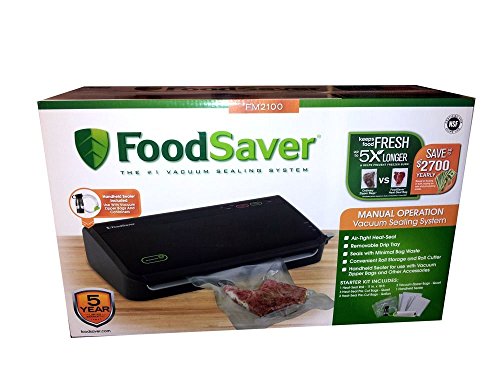 Seal-a-Meal is a very popular and one of the cheaper options. It's in the top 3 bestselling vacuum sealers and has dozens of popular alternatives in the same price range, such as Seal-a-Meal Manual Starter or Abox V63 .
Seal-a-Meal is $26.60 less expensive than an average vacuum sealer ($54.99).
Did you like the video? Like or tell your friends!