David lebovitz cookies
Amnesty Cookies
When I was speaking at the Blogher Food Conference last year, one of the organizers was telling us that on the last day of each month, she carries out what she calls E-mail Amnesty Day. On that day, she deletes all her e-mail in her Inbox, then issues an all-points-bulletin to everyone she knows that if there was anything important in there, to e-mail her again. She swore that it drastically reduced her e-mail and any meltdowns one might have trying to answer it all.
I thought that was an interesting idea, and when I looked around my apartment the other day, (which wasn't half as scary as my Inbox), I realized that I had a huge miscellany of half-bags and jars of stuff left over from various baking projects, odds and ends that I was saving, which I said to myself (at the time) that I'd certainly use in the future. And this weekend, I thought it was high time to do something about it and get rid of them all, to do an exhaustive, clean sweep and get rid of everything.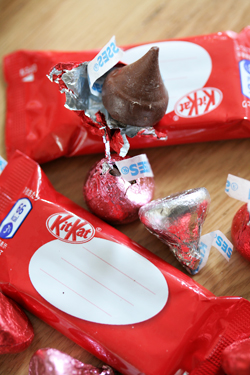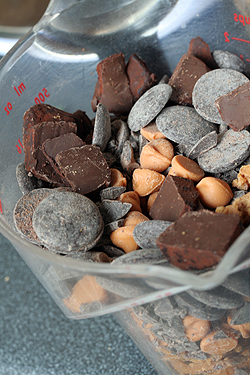 What also prompted the purge was when I read where Adam made something called "Compost Cookies", a recipe which includes anything you wish to dump in it, from chocolate chips to Fritos.
He replied, on Twitter, "What would you put in your version?" And then it hit me, that I should give these highly-praised Compost Cookies, a recipe from pastry chef Christina Tosi of Momofuku Milkbar, a try.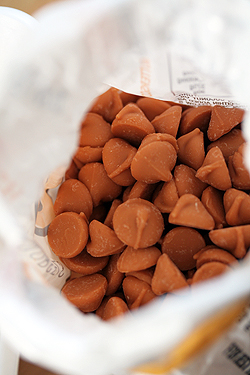 I puttered about my apartment, gathering up goods, like that small blob of caramelized white chocolate I'd been picking at whenever it rose to the top of the pile of stuff, the 3/5ths of a bag of butterscotch chips that I used for Triple Chocolate Scotcheroos, four chocolate truffles I didn't get around to eating which looked lonely, a half-jar of croquante from a brush with a molecular gastronomy, three miniature Kit-Kat bars from Japan, and the last morsels and bits from the bottom of a five kilo box of French chocolate pistoles.
Sine the recipe pretty much gives you leeway to use up three cups of stuff, including pretzels, potato chips, or whatever snack foods you want (or have on hand)…I kissed those Kisses goodbye, gave a scissory guillotine to some orphaned oursons guimauve, and said au revoir to all that.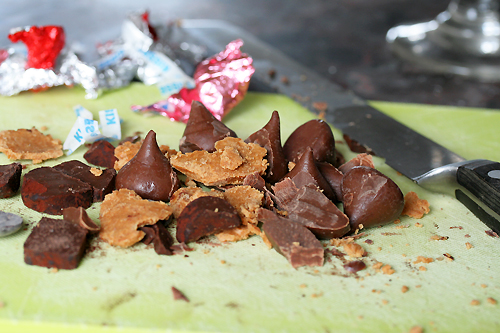 Well…one of the three Kit-Kat bars didn't make it into the mix. I had to taste one, to make sure they were was still usable, right? And maybe a few marshmallow bears, before sending them off to meet their melting fate.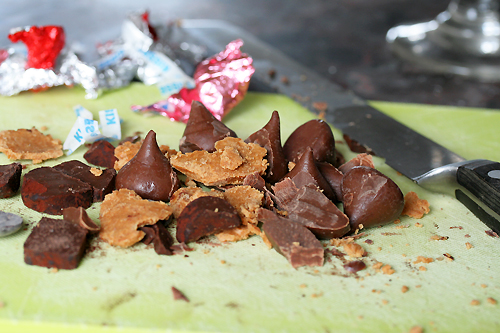 For better or worse, in France, there's all sorts of goofy snack foods, including one that I didn't know if it still existed in the states or not: Bugels.
(I used something called "Google" and found out that yes, they do. I guess since no one sold them at the San Francisco farmer's market, I sort of forgot about them.)
Although the supermarket shelves in France aren't the all-out assault the American snack foods aisles are (re: shelves vs. aisles), we do have roast chicken-flavored potato chips, and there's plenty of other nutritionally-dubious stuff to choose from, nonetheless. And the versions that you see here are often close to the original ones we had in the states, before everything thing in them got banned. Most likely because a lot of them fly under the radar here, they still taste the same as they did in the old days, since they're full of insidious hydrogenated fats and even le glucose.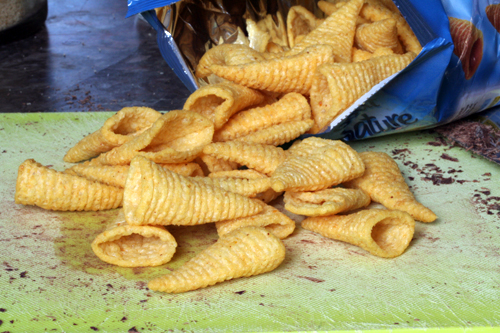 Like America, France is still a relatively-free country (although the banks and mobile phone companies here would like it otherwise), the great thing is that you can put anything the heck you want in this batter: thin mints, Pepperidge Farm goldfish, crisp bacon, Captain Crunch, salted butter caramels, Bugels, peanut brittle—whatever. Everything…out, out, Out!
As Adam mentioned, the dough was oh-mes-etoiles good. Don't even think about tasting it before you bake the cookies, because if you do, you won't likely have enough to bake off a single sheet pan of these. The salty pretzels embedded in the brown sugared batter, and corny Bugels a-plenty mingled with the big hunks of top-quality chocolate and low-quality butterscotch chips makes a dough that's one salty-sweet, buttery-crunchy, amazingly delicious mess.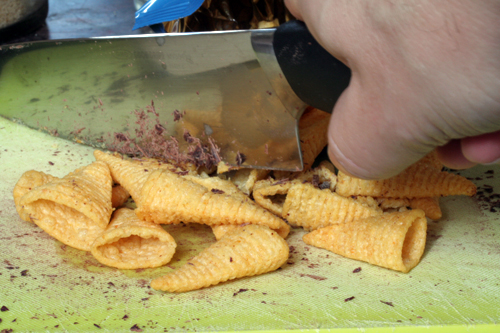 Unlike when Adam said to Eve, "Stand back! I don't know how big this thing is gonna get!", when I scooped the cookie batter on to the sheet, I knew for sure they were going to be mighty-big whoppers. (Unlike Adam. Well, I mean the Adam of Adam and Eve. I don't know about Adam Roberts.)
The recipe says to use a 6 ounce ice cream scoop. Do you have any idea how big a six ounce scoop is? That's about 3/4 cup of batter.
Per cookie.
Hey, the bigger the better, I suppose. And I had a lot of stuff to plow through, so I wasn't questioning anyone.
However.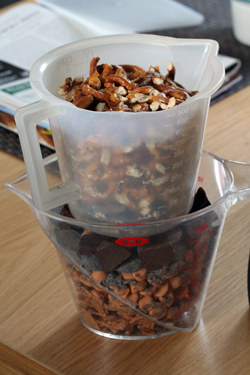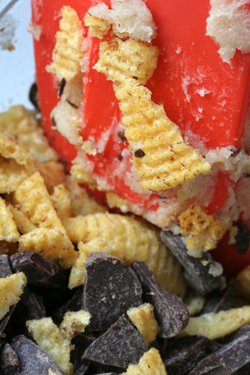 Being a good little baker, I followed the Compost Cookie recipe almost precisely, and the first batch were puddings of underdoneness, with lava rock-like edges. Someone on my Flickr page said they looked like "chicken pot pie cookies."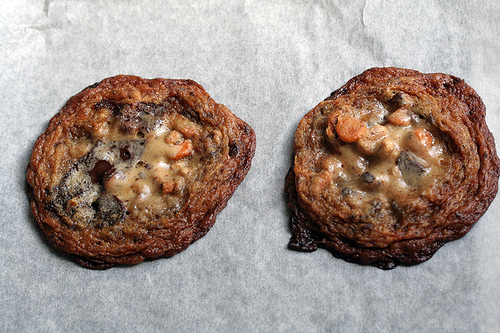 I guess I was so excited to get rid of things that in my haste, I neglected to read where in the recipe, it said it was obligatory to freeze the scoops of dough for at least one hour, which I then dutifully did with the rest of the batter.
After baking off another two baking sheets, each one producing six identically flat cookies, which luckily didn't resemble caramelized savory hand pies (although there's an idea for anyone enterprising out there who wants to run with it) I went back and re-read the recipe yet again, and realized that the baking sheet needs to be frozen as well. So it was back to the chopping block for me.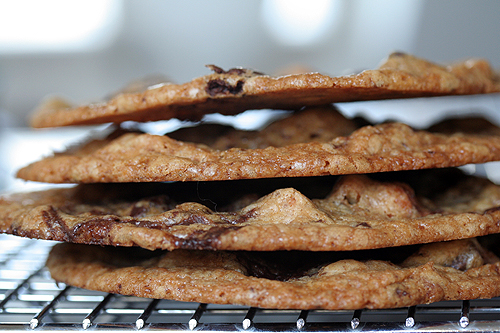 Considering there isn't space for a postage stamp in my freezer, finding space in there was no easy chore, let me tell you. But if I could clear out some space in my cabinets, gosh darn it, I could give it a go in my freezer.
And because when I'm having a problem I do what everyone else does: blame the French. So I resorted to dipping into my stash of American flour.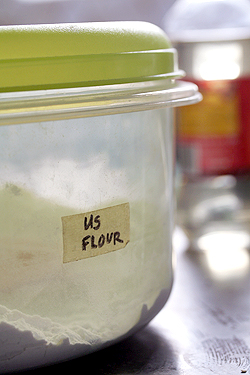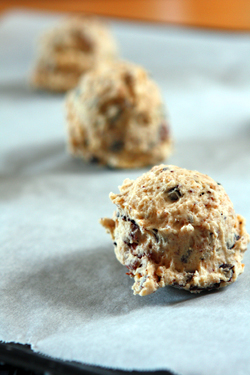 And sure enough, success. Whew!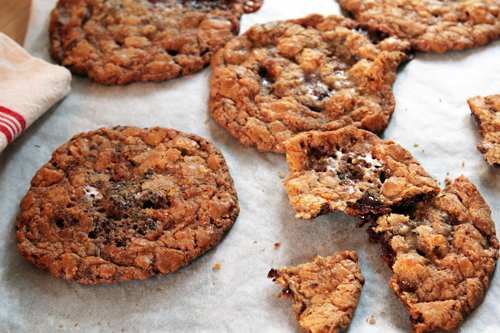 Oh, and what did I do with those extra cookies, the flat, the chicken pot pie-like, and overbaked, too thin ones? I cut them up and put them in the freezer, where I'm storing them, to use for another baking project in the future.
Oh, no!. . .
david lebovitz cookies
Oatmeal Raisin Cookies
220 Shares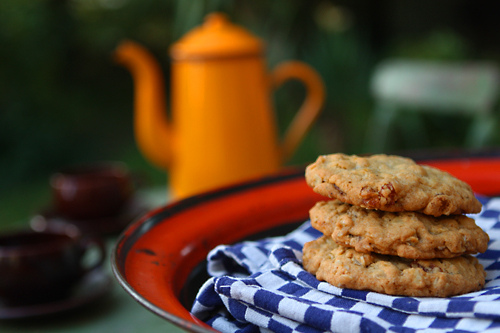 We seem to be going though an age of competitions and it's interesting for me to see so much fascination with being a chef, and people acting out on television what goes on (or they perceive goes on) in restaurant kitchens. I spent most of my life behind the stoves and let me tell you, it's often not pretty and I would not want anyone following me around with a camera while I cooked. (Which is why this blog doesn't include a webcam.)
I'm not sure how this fascination with being a chef came to be as it's really 'grunt' work and there's nothing at all glamorous about it; no matter how many tattoos you have or how much you swear at underlings, there's still a ton of work involved and no way you're going to get through it by the end of your shift. Sure, I had a great time cooking with friends and co-workers (well, most of them…), but the grueling hours and the physical labor involved is one of the main reasons that I'm permanently damaged, both physically and psychologically.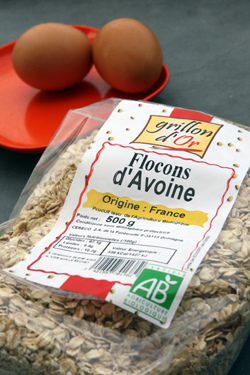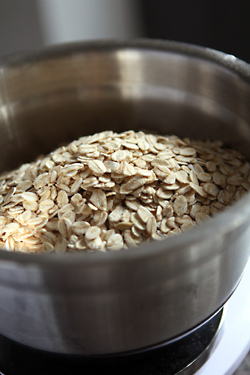 Thankfully I was part of that elite group of people in the professional cooking world: The bakers and pastry chefs. Unlike the line cooks, who were whooping it up and play with fire, we disciplined souls were in the back of the kitchen, dusting doughs with flour, rolling out cookies, melting chocolate, and creaming buttery cake batters. But a regular chef once said to me—"Why are all you pastry chefs so weird?"
Because what he didn't understand was the special position that bakers and pastry chefs have in the restaurant world. Yes, we are weird special because we make the birthday cakes for the staff, we send out extra treats to customers when the meal had some glitches (ie: someone else screwed up), we bandage up new busboys who cut themselves with the very sharp bread knives, and most of all, we listen to everyone in the restaurant, waiters and cooks, stopping by and telling us all their problems.
Hence we all share a global bond and we can walk into any professional kitchen around the world, swap our secret handshake, and be instantly accepted as part of the worldwide fraternity of bakers.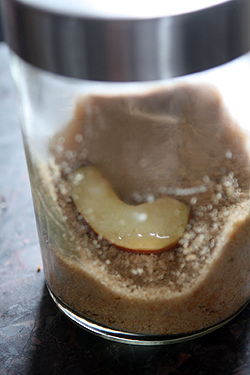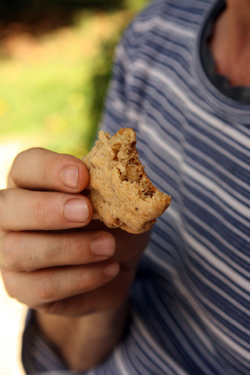 Having been a baker most of my life, our network of bakers is a pretty close-knit group and I personally don't know anyone who are competitive. Maybe I've been sheltered but the whole idea of baking invites sharing since no one bakes a cake or a batch of cookies all for themselves. And whenever I have a question or problem about baking, I have vast network of fellow bakers that I can turn to.
To expand that network, when I go to a new city, I love trying out small bakeries and meeting new bakers. (Although after I've exposed the fact that we have a secret handshake, we might have to change our secret signal.) People often point me toward bakeries that are fancy and extravagant, but I'm happy to go to places like Baked, Babycakes, and Citizen Cake, that bake up treats like I want to eat, not fussy showstoppers.
One bakery I haven't been to is Flour in Boston, owned by Joanne Chang. But I've been reading through her first book, Flour, and the recipe that caught my eye was Oatmeal Raisin Cookies.
These Oatmeal Raisin Cookies, Joanne says, are "…as basic as it gets" and I'd have to agree. Don't expect any curveballs or modern twists, and I'm fine with that. And when I went out to the French countryside recently, before the weather got too brisk and ferocious out there, I baked up a batch of these wholesome cookies and brought them along.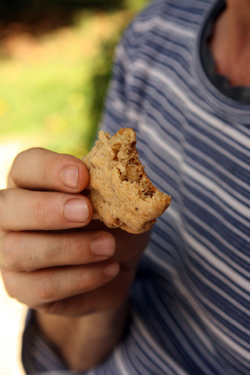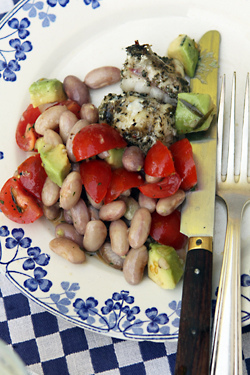 Even though she's not part of our secret society, my friend Diane gave me this wonderfully spicy cinnamon from Vietnam that I used in these cookies, so probably I should to make her an honorary member, or at least our mascot.
And speaking of secrets, I did add one special touch to these cookies; about midway through cooking, when I rotate the baking sheet, I take a spatula and tap the tops of each cookie down to flatten it. That compacts the insides a bit and makes the cookies less-airy and more chewy, just the way I like my Oatmeal Cookies.
So after a pleasant lunch in the outdoors of grilled lotte (monkfish) and a salad of fresh shelling beans with avocados, tomatoes, and savory, (and the obligatory cheese course, bien sur), I poured us cups of strong, very dark coffee and set out a tray of these cookies.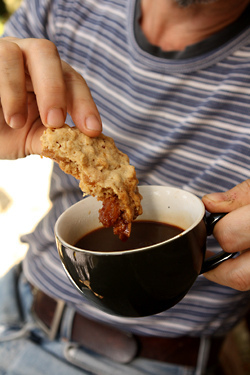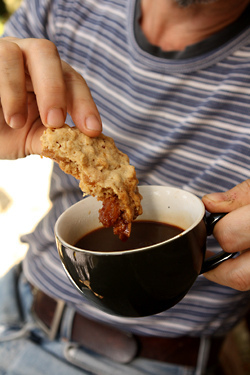 The French aren't known for chomping down on monster sized cookies like we Americans, and French cookies are generally dainty circles of crisp sables or similar, bite-sized disks. These are big, soft cookies and perhaps the cookies in France are firm because the French are 'dunkers'. Being French and being a dunker, (and being a contrarian), Romain dipped his soft Oatmeal Cookie into his cup of hot coffee and said, "This is the perfect way to eat these cookies."
Not being a dunker (but being a skeptic, which makes me a little French), I wasn't so sure. But when I did give the oversized cookie a dip, it transformed the whole cookie into something entirely different and the coffee somehow highlighted the butterscotch-like flavors of oats enveloped in a buttery-sweet dough. So I guess I have more to learn from the French than I thought.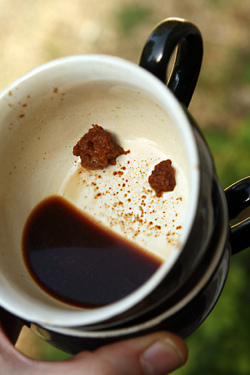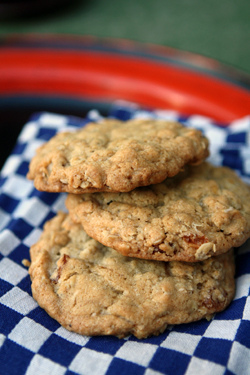 Being someone whose mind is always thinking about his next batch of cookies, next time I make them to bring out to the country, I'm going to swap out dried sour cherries or cranberries for the raisins, and add a generous handful, about a heaping cupful, of white chocolate chips.
But that might have to wait until the spring. In the meantime, I gotta work on figuring out a new secret handshake now that I've blown it for all of us bakers out there.
Oatmeal Raisin Cookies
Print Recipe
About 24 cookies Adapted from Flour by Joanne Chang Because we all like to share, I thought I'd share a baking tip. Some of you probably know this, but if your brown sugar clumps up into a hard mass that is impossible to measure, slip an apple slice in the container and let it sit for a few hours. Like magic, when you go to scoop of the brown sugar, you'll find it light and fluffy again. Be sure to really beat the butter and sugar together in the stand mixer. (If you don't have a mixer, Joanne says you can beat it by hand for ten minutes instead.) She is emphatic about using fresh spices and I agree. I did dial up the cinnamon a little since I like a bit of punch to my oatmeal cookies, and if you want to swap out the raisins for another dried fruit, cranberries, sour cherries, or diced apricots could certain stand-in nicely.
1 cup (225g) unsalted butter, at room temperature
2/3 cup (150g) granulated sugar
1 cup (200g) packed light brown sugar
2 large eggs, at room temperature
1 3/4 cup (245g) flour
1 teaspoon baking soda
1 teaspoon sea salt
1/4 teaspoon freshly grated nutmeg
1 teaspoon ground cinnamon
1 3/4 cup (175g) old –fashioned rolled oats (not instant or quick-cooking)
1 1/2 cups (240g) raisins
1. In the bowl of a stand mixer, beat the butter and sugars until very light and fluffy, about 5 minutes.
2. Meanwhile in a separate bowl, whisk together the flour, baking soda, salt, nutmeg, and cinnamon, making sure there are no lumps of baking soda. Stir in the oats and raisins.
3. Add the eggs, one at a time, and beat until thoroughly combined. On low speed, or by hand, gradually add the flour and oat mixture to the creamed butter, mixing until completely incorporated.
4. Chill the batter a few hours or overnight, covered. (This step is optional, although recommended by the author.)
5. To bake the cookies, preheat the oven to 350?F (180?C). Line a baking sheet with parchment paper or a silicone baking mat.
6. Drop the dough in 1/4 cup (50 g) balls evenly spaced on the baking sheet and flatten the tops slightly with your hand.
(I got about 8 cookies per baking sheet.)
7. Midway during baking, rotate the baking sheet and tap the tops of the cookies down somewhat firmly with a spatula to flatten the domes.
8. Bake the cookies for 20 to 22 minutes, until they just start to turn brown across the top, but do not overbake.
Remove from oven and cool completely.
Storage: Once cool, the cookies can be stored in an airtight container for up to three days. The dough can be stored in the refrigerator for up to one week, or frozen for up to two months.
Related Recipes & Links
Fruitcake Bars
Lowfat Oatmeal Raisin Cookies
Apple Spice Cake
Baking Ingredients and Substitutions
French Sugars
American Baking Ingredients in Paris
---
Subscribe to my Newsletter
220 Shares
Original Recipes, Books & Life in Paris - David Lebovitz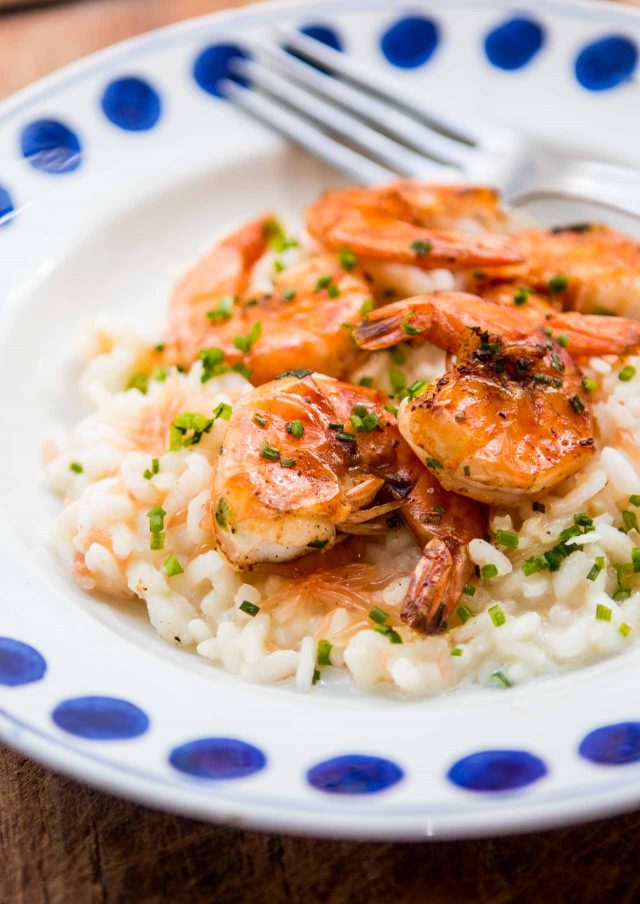 I was joking with someone the other day, who was making Judy Rodgers' Pickled Red Onions. Judy was the chef and owner of Zuni Cafe in San Francisco and published one of the best books on cooking that has ever been written: The Zuni Cafe Cookbook. Like a number of her recipes, the method for pickling her famous red onions they serve on the Zuni burgers, seems convoluted and requires what seems like a bunch of unnecessary steps. But like most of Judy's recipes, the joke is on anyone who doubts her recipes, whose results are always spot-on. (I posted an easier pickled red onion recipe a while afterward, for those that don't have the stamina to make hers.) One of her famous quotes about her cooking was, "Stop, think, there must be a harder way."
This unusual combination of citrus and cooked rice prompted the cooks at her restaurant to question her sanity when she put it on the menu, but it's really wonderful and a breeze to make. It requires just a short list of ingredients and pairs perfectly, with everything from grilled fish and shrimp, to seasonal vegetables like asparagus, peas or fava beans. But it shines just as brightly on its own, too.
Continue reading…
Seaweed Cookie Recipe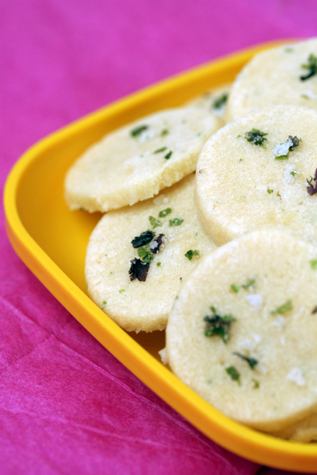 Last week, I was making my weekly ice cream deliveries to the vendors at my local market, which was especially necessary since my freezer was super jam-packed and begging for relief. (Which you may have seen when I inadvertently bared-all in my kitchen slide show.) When I stopped by to drop off a pint to my pal Regis, who sells salt at the market, I immediately honed in on a big basket he had heaped full of tiny sacks of bright green seaweed-flecked salt. He opened one, waved it under my nose, then handed it to me to play around with at home.
The first thing I did was add it to some eggs I was scrambling in the center of some fried rice, and it was excellent. Then I thought it would be delicious sprinkled over cold soba, thin Japanese buckwheat noodles. And it was. So I kept going and made a jeon, a big Korean pancake, which was another hit, too.
I'm on a roll!

Then pulled out a batch of cole slaw I'd made the day before, added a few bits of it, and it completely came alive with flavor. The crisp Savoy cabbage, along with the crunch of roasted peanuts, black sesame seeds, and a few slippery bits of avocado played off nicely against the salted seaweed.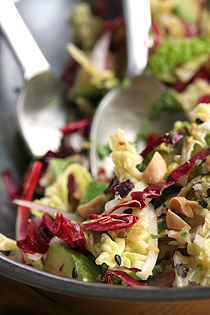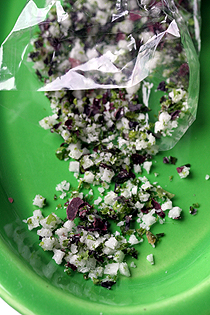 I'm planning to smuggle some Chex back from Texas next month as I think this salt would make an excellent base for some homemade Chex party mix, whose appeal may take some explaining for my Parisian friends. But I've been serving these little cookies along with aperitifs before dinner to much acclaim. Although I used seaweed salt, you could use flaky sea salt and add a handful of finely-chopped olives or nuts to the dough, which I imagine would be pretty terrific as a pre-dinner bite as well.
Seaweed Cookies, or Petites Galettes au fleur de sel aux algues
Print Recipe
About 70 little cookies
If you don't use seaweed salt, use 1 teaspoon flaky sea salt, adding it at the end with the flour. If you want to make your own seaweed salt, chop a mix of dried kelp, dulce, and toasted nori until relatively fine. (You can find them at natural foods stores and Asian markets.) Afterwards, mix or grind it with flaky sea salt in equal proportions. But if seaweed's not your thing, feel free to play around with other naturally-flavored salts. Cinnamon and spicy red pepper both sound good to me.
6 tablespoons (90g) unsalted butter, at room temperature
2 teaspoons fleur de sel aux algues, plus additional for sprinkling the cookies
9 tablespoons (110g) powdered sugar
1 large egg yolk
1 1/2 tablespoons olive oil
1 cup plus 2 tablespoons (155g) flour
1. Mix the butter and fleur de sel aux algues together until smooth. Beat in the powdered sugar, then the egg yolk.
2. If using an electric mixer, scrape down the sides, then add the olive oil and flour until smooth.
3. On the counter top, roll the dough into two logs, each about 8-inch (20 cm) long. Wrap each in plastic and chill until firm enough to slice, about 1 hour.
4. To bake the cookies, preheat the oven to 300F (150C). Line a baking sheet with a silicone mat or parchment paper then slice the cookies on the scant side of ?-inch (?cm) thick. Place them evenly-spaced on the prepared baking sheet.
5. Sprinkle a couple of grains of seaweed salt over the top of each cookie (mine was pretty coarse so I crushed it a bit first), then bake for 12-14 minutes, or until slightly-firm. Cool before serving.
Storage: The cookies are best the day they're made, but can be stored overnight in an airtight container. The dough can be chilled for up to 5 days, or frozen for 2 months.
More on Salt:
Fleur de sel de Guerande
Fleur de sel (Amazon)
Sea salt guide
Which Salt is Best? (Slate)

Did you like the video? Like or tell your friends!